About me
I'm a UK born museum educator, trainer, facilitator and podcast host based in the Netherlands.
I love teaching people the secrets of facilitating joyful experiences with art and objects. I enjoy sharing techniques to help everyone to engage and connect with museums, art, objects and ideas.
I'm a huge fan of slow looking and have developed an approach to help people engage with art and objects in museums called Visible Thinking in the Museum (VTM).
I work online and in-person with educators, guides, teachers and creatives to help them to confidently design and lead engaging inquiry-led programmes for any audience.
I have my own podcast The Art Engager where I share a variety of easy-to-learn flexible techniques and tools to help create participant-centred, inquiry-driven experiences that bring art and objects to life.
I believe art and museums are there for everyone. My mission is to share tools and techniques to help everyone to enjoy the world of art more fully, without necessarily needing recourse to any specialist, in-depth knowledge or skills.
I'm an ILM Level accredited coach (Level 5 in Effective Coaching and Mentoring) and have a Master of Museology from the Reinwardt Academy in Amsterdam. I am currently writing my first book about the VTM approach – out Autumn 2023!
SPEAKING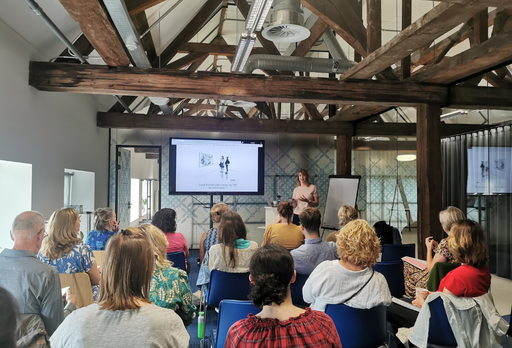 Host a workshop at your organisation, an event in your area or request me to support a conference. Over the past decade I've facilitated hands-on workshops and delivered keynote speeches at a large number of conferences worldwide.
I design and facilitate all of my speaking engagements to be participative, interactive and thought-provoking whilst providing practical and relevant steps to inspire participants towards action and change.
I'm happy to tailor a presentation or workshop to meet the needs of your unique audience. My areas of expertise include: slow looking, fostering curiosity and engagement with art and objects, Visible Thinking in the Museum, questioning strategies, how to connect and engage with audiences, how to transition from traditional to interactive guided tours, how to create great guided experiences.
Some of the international conferences I've spoken at: Project Zero Perspectives (x2), MuseumNext (x2), ICOM CECA (x2), Museum Congres Netherlands, ECSITE, Stories that Move International Conference, British Museum Objectively Speaking Conference, Museums Guides Now, Telus Spark Science Centre and many more. There are too many to mention here – but here is a link to the last conference I presented at!