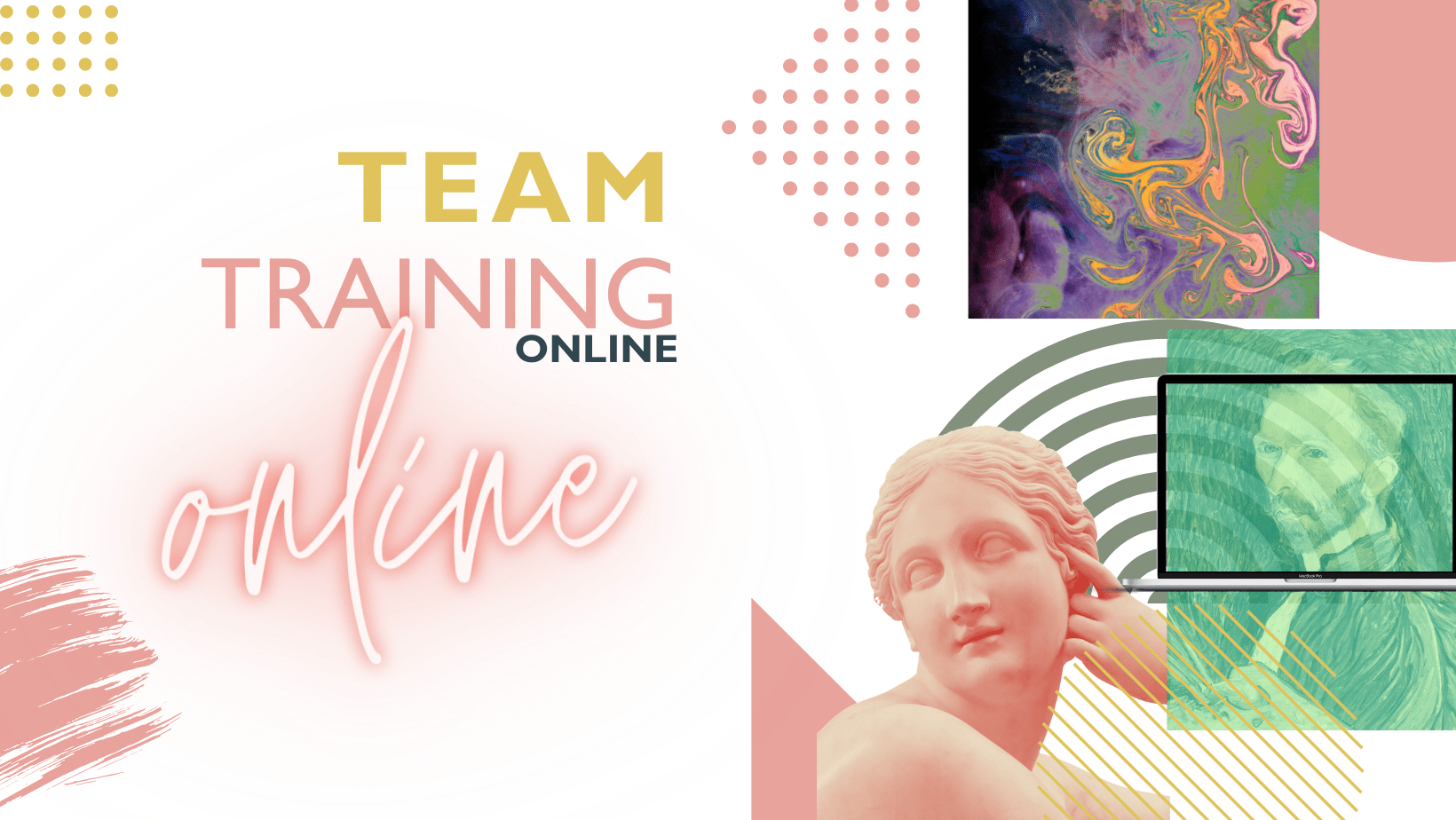 Would you like your team to make their tours, educational programmes and online sessions more interactive, participative or engaging?
Would you like your team to transition from a more traditional walk-and-talk style to an inquiry-based way of working?
I regularly facilitate online classes and courses for teams of museum educators & guides, gallery teachers and art mediators, heritage educators and volunteers from all over the world.
Online Masterclasses for Teams
Online masterclasses (90-120 mins) for teams of museum and heritage educators, museum docents, guides and volunteers, teachers and learning practitioners in a range of engagement strategies and techniques.
Choose from the following options or request a series of skills-based or method-based classes:
Introduction to Visible Thinking in the Museum (VTM) + 3 thinking routines

How to Share Information to Delight and Engage your AudienceThe Art of Facilitation

The Art of Questioning – Techniques and Tools

Facilitation Skills

Building Rapport & Great Group Dynamics

How to Facilitate Engaging & Interactive Online Sessions

Zoom Confidence for Educators

Slow-Looking: The Art of Observation
VISIBLE THINKING IN THE MUSEUM ONLINE (VTMO) COURSE – FOR TEAMS
This 8 module interactive online course is a combination of self-directed study and live tutorials with Claire Bown.
VTMO can be customised for organisations who want to support and offer professional development to their team members (teams of museum guides, heritage educators, docents and volunteers).
No prior experience is required to start with the course. Get in touch if you would like to sign up your team for a customised VTMO course with me.
I have booked several courses with Thinking Museum over the years (Visible Thinking and Global Thinking). The courses always give inspiration to the guides and to the whole team. It makes everybody reflect upon their own style, role as a guide and techniques. Furthermore the courses give very practical tools to make guided tours more interactive, memorable and fun. I would recommend these courses to everybody.
We just finished our virtual training sessions with Claire Bown and it was absolutely fantastic! There are 90 Docents in our Museum program and I received nothing but positive feedback.  The strategies, activities, and questioning tools provided will have a lasting impact on the quality of our Docent Program
Claire, thank you so very much for your incredible slow looking masterclass for my art museum education graduate students.  We were all completely riveted by your calm, even demeanor and soothing voice.  We could have listened to you all day.  You were like the Pied Piper of Art Museum Education!  You could have led us anywhere and we would have followed!

I was incredibly impressed with your organization both leading up to and during the session, the flow of class, the captivating piece of art you chose for our discussion, and the content of your presentation.  It was everything I hoped it would be and more!  I would love for all of my future cohorts of students to get the same opportunity to study with you.  Thank you, Claire!"
It was a pleasure to work with Claire Bown, both in the planning, and implementation of the online training sessions.

Her in-depth knowledge of art, the museum context and thinking routines made the customisation of the training for an advanced team fun and professional.

We arranged the training in two parts, one part more focused on working with children and schools and one part more focused on general audience and adult groups.

The sessions have provided a common area of reflection for our team as well as new practical tools in facilitation.