After you've become an expert at using all the standard elements of Zoom (chat, breakout rooms, whiteboard, annotation and polls), you might want to progress to using external tools that offer more flexibility and creativity. Here are 3 great tech tools that you can use with thinking routines and art.
Mentimeter
At the start of every in-person Visible Thinking in the Museum training, I used to ask participants to grab a post-it note and write down their expectations for the day. We would then stick all the post-its onto a whiteboard or flip-over. The trouble was, those at the back couldn't actually see what was written on the sticky notes and they all kept falling off the board too…
So, I was on the lookout for an alternative and came across Mentimeter in 2017. Mentimeter is interactive presentation software that allows you to interact with your audience using real-time voting. No installations or downloads are required – and the basic version is free! It allows you to gather input from participants (either remote or in-person) with live polls, quizzes, word clouds, Q&As and more. Your audience can use their computers or phones to connect to your presentation and answer your questions (anonymously). It makes in-person and online sessions much more engaging and interactive. See below for an interactive word cloud my participants created at my Visible Thinking in the Museum training in 2017. 
To get going, simply sign up and login. Then head straight to the Inspiration section for a range of ideas of how to use this great tech tool. I've used Mentimeter to connect with participants at the start of a session ('What are your expectations for today?' 'Please introduce yourself and say what you do'), ask questions midway through ('How does everyone feel right now?') and use an exit ticket or ask for feedback at the end of a session ('What is your one key takeaway from today?').
It also works brilliantly with thinking routines. In my masterclass on 'Zoom Confidence for Educators', I used Mentimeter to generate a list of 'wonderings' as part of a discussion using the See-Think-Wonder thinking routine with an artwork. I shared a link with participants so that they could answer the question 'What does it make you wonder?' After a few moments, all the questions were displayed on a huge wonder wall – visible for everyone to see. You could then use this to answer some of the questions or to make connections between common wonderings or even star the most important question.
Miro
Miro is an online whiteboard that allows participants in an online session to visually collaborate and work together.
To get going, create an account and log in. Then get going by creating a new Miro board and adding a frame to it. Each board is endless, and frames act like pages. Miro has an extensive collection of templates that you can use to get started. So do browse for new ways to use Miro to increase engagement and interactivity in your online sessions.
You can easily
upload different types of content
to your board and use
Stickies
to write down ideas and tasks like on a real whiteboard.
I created a very simple board in under 5 minutes with Miro for an online See-Think-Wonder discussion on the Nightwatch by Rembrandt. I was able to easily upload the image & create three stickies for each of the thinking routine categories. Participants can then add their own sticky notes under each of the columns to share what they see, think and wonder about the image.

One downside of Miro is that to collaborate with others easily everyone needs to have an account or have provided their email address in advance. If you're using the free version, you need to invite participants via their email address or you can share a link (but participants will need to sign up for Miro first –  unlike Mentimeter and Padlet). This does make this tool less accessible, although I still use this tool with groups that I teach regularly. 
Padlet
I've been experimenting with Padlet for a while now and have to say that out of all these tools, it's my favourite. It's extremely versatile and simple to use for both the facilitator and for the participants. Again, you can use the app or go to the

Padlet website
. And the basic version is free!
First create an account and make your first board to share with your participants. You can then share the Padlet board with your participants in a variety of ways – but the easiest is via a link. Participants can paste the link in their browser (or in the app) and they are good to go – no need to create an account or invite via an email address.
Padlet is great to use for Brainstorming on a topic, statement, project or idea (use thinking routine Generate-Sort-Connect-Elaborate and then Compass Points), as a live question bank (use Creative Questions or Question Sorts), an entry/exit ticket (use I used to think…Now I think…), for concept or thinking maps (use Chalk Talk or GSCE) and for all kinds of thinking routine discussions with art and artefacts.
In my How to Be a Master at Zoom Art Facilitation yesterday I demonstrated 3 different kinds of Padlet templates that could be used for an online discussion of an artwork. You could try Padlet Shelf to create a board with columns – eg see wonder connect, see-think-wonder. You can even add the image onto the board too.
Or Padlet Stream to create a board where participants can share their ideas, responses and reply or comment to other participant's comments too. This would be a great way to use Headlines. Finally, I demonstrated Padlet Wall as a visual way to share drawings, poetry, quotes and ideas as a response to looking at an artwork online.
Don't be afraid of the tech! As one of my participants said yesterday, experiment without fear. Give these tools a go and let me know how you get on. They are great for creating and leading engaging and interactive online Zoom sessions.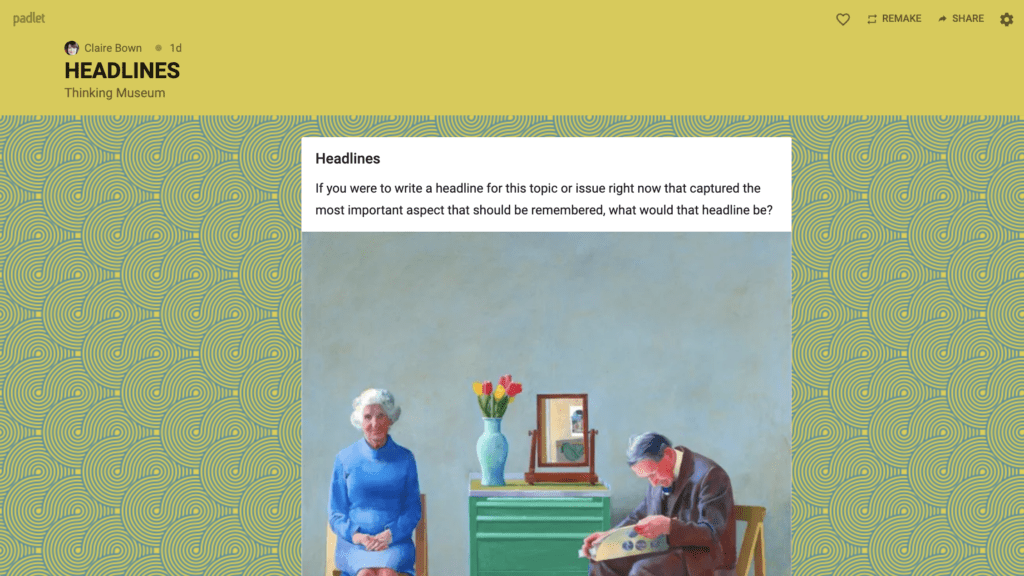 If you're thinking about facilitating online Zoom discussions about art and artefacts, but wondering how your skills will transfer to an online environment, take my online masterclass 'Zoom Confidence for Educators' available below.
This class will have you facilitating interactive & engaging online art discussions like a pro in just 90 minutes.