THE THINKING MUSEUM SELF-PACED PROGRAMME
100% online and asynchronous. Follow classes from wherever you are, at your own pace.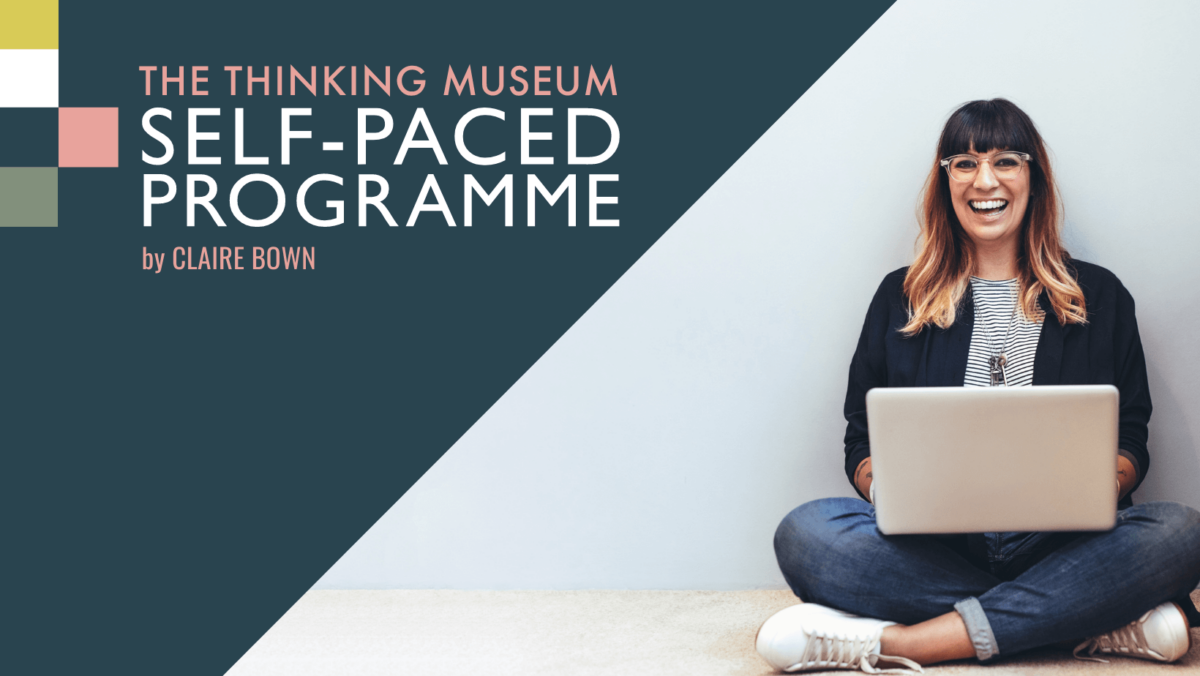 The Self-Paced Programme is designed to equip you with the skills you need to create and lead engaging experiences around art and artefacts.
The courses and classes in this programme explore effective practice in the core elements of the Visible Thinking in the Museum (VTM) method: questioning skills, facilitation techniques, slow looking and an exclusive class teaching an introduction to VTM itself.
WHO IS THIS FOR?
Museum or heritage Educators
Museum & heritage guides
Cultural & historical guides
Museum docents & volunteers
Freelancers, creatives and entrepreneurs working in the cultural sphere
Teachers & educators
WHAT'S INCLUDED?
Video classes that teach you the core elements of the Visible Thinking in the Museum approach
Resources, cheat sheets and reading recommendations to download and push your learning in new directions
New classes and courses added on a regular basis. Start with 5 core programmes.
Easy-to-follow and implement techniques and strategies to create more engagement in your programmes about art and objects
There are 4 core classes and 2 courses in the Thinking Museum Self-Paced Programme.
Introduction to Visible Thinking in the Museum
An introduction to 4 of the core principles of the Visible Thinking in the Museum method – slow looking, questioning skills, facilitation techniques and, of course, thinking routines – complete with exercises you can complete in your own time.
You will learn:
✔️the basics of Visible Thinking in the museum – what it is, how it works
✔️4 of the core elements of VTM – slow looking, thinking routines, questioning and facilitation skills.
✔️4 activities to get started with the method
The Art of Questioning
This masterclass will take you step-by-step through the process of improving your technique with tools and exercises to help you consistently create, sort & evaluate your own brilliant questions.
You will:
✔️Learn about the different types of questions and when to use them
✔️Learn simple yet powerful ways to generate, formulate, sort and evaluate questions in response to prompts, artworks and images
✔️Learn to analyse, track & reflect on your own questions, turn closed into open questions (and vice versa)
✔️Finally you will learn new thinking routines, techniques and activities that you can use regularly to perfect your questioning techniques
Building Rapport: Great Group Dynamics
Building great relationships between participants is important in making your programmes, tours and sessions engaging. As facilitators we need to create social comfort and psychological safety, we also need to build trust and social interaction.The important point to remember is that you need to put a CONSCIOUS EFFORT into creating a great group dynamic. It will take effort on your part but will pay dividends. This class will teach you how!
Zoom Confidence for Educators
In this class, you will learn how to get over your tech fears, how to create and lead engaging and interactive sessions and help you to get your personality across (and feel less camera-shy). This class will have you leading Zoom sessions like a pro in 90 minutes!
Slow Looking: The Art of Observation
A 6 part course comprising a combination of classes taught by Claire Bown featuring guest teachers and a rich library of slow looking resources.
From Monologue to Dialogue: How to Share Information to Engage and Delight your Audience
This is a 2 part mini-course (2 x 90 minutes)teaching you how to master the art of knowing how and when (and if) to add information. Learn how to use information as a tool to create curiosity and engagement.
"These classes are great. You give wonderful directions in a calm and thoughtful way and pace the lessons beautifully"
Ron Ritchhart, Senior Research Associate, Project Zero, Harvard Graduate School of Education
This programme is intended for you if you want to equip yourself or your team with the skills you need to create and lead engaging experiences around art and artefacts.
This programme is 100% online. Follow my courses & classes wherever you are and at your own pace. All content is asynchronous so that you can access in your own time.
This programme is popular with:
Museum or Heritage Educators
Museum & heritage guides, cultural & historical guides, museum docents & volunteers
Freelancers, creatives and entrepreneurs working in the cultural sphere
Teachers & Educators
Teams of educators & guides at museums, heritage & cultural organisations (get in touch for a team membership)