Every month in the Visible Thinking Membership we have a specialist thinking routine class that gives us the opportunity to discover a new thinking routine or to dig a bit deeper into one we already know. We recently  discovered Lenses thinking routine and here's how we used this thinking routine to analyse an artwork in an online group discussion via Zoom. 
What is Lenses thinking routine?
Lenses is a thinking routine that invites participants to be intentional about looking through distinct lenses as they explore an artwork. It is essentially a thinking routine that you can use for looking through lenses and exchanging perspectives.
4 Stages of Lenses thinking routine
There are 4 parts to this thinking routine:
SEE

Choose and share a LENSE

PROBE

REFLECT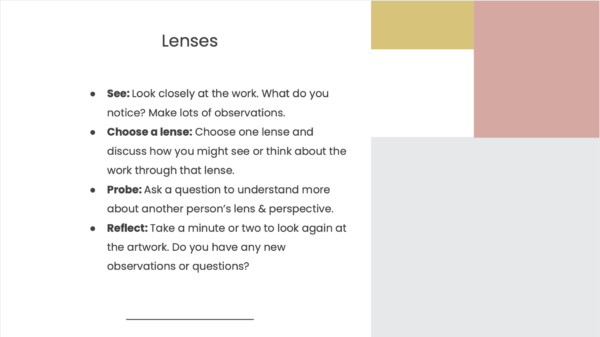 About Lenses
The Arts as Civic Commons (ArtC) project develops tools and resources that encourage learners to explore the complexity of contemporary civic themes through looking at and making art. ArtC believes that art is a common ground for exploring civic themes – themes related to how we live together and how we aspire to live together. 
The ArtC project is currently developing a range of 'thinking routines' and other practices to help learners:
build their own civic visions about the way the world is or should be, and reflect on the visions expressed by artists and by their peers;

explore how art can reveal, interrogate, and even change the systems that shape civic life, including institutional systems, belief systems, and power systems;

engage in thoughtful, inquiry-oriented dialogue that builds knowledge about civic themes and illuminates diverse perspectives;

reflect on their own civic identities, and explore how their own lives are connected to larger systems and stories;

develop a sense of agency with regard to civic life, along with an expansive conception of the civic domain and what counts as civic action.
To read more about this fascinating project, go to Arts as Civic Commons. 
Tips for Using Lenses
Choose an artwork that might address or speak to one or more civic themes. Suggestions include issues such as climate and environmental change, migration, economic and other inequalities, gender and sexuality issues, race/racism, or any theme that addresses values, social conventions, power dynamics, institutions and systems that shape every level of community life, from the local to the global.

The routine is designed to support individual looking, thinking, dialogue with others, and then reflection.

The discussion-oriented steps in the routine (Choose and Share a Lens and Probe) can be done in pairs or small groups. You can also choose to write first and then share. 
A Note on Lenses
Think about a lens as something you look through. 
Your own personal lenses will be affected by your identities or backgrounds – for example your gender, your age, the place you are from or live, your race, ethnicity, your role in your family and more.
All of these are 'lenses' that shape what you see when you look at a work of art. 
The Lenses thinking routine is about intentionally looking through lenses at a work of art and then exchanging perspectives with others.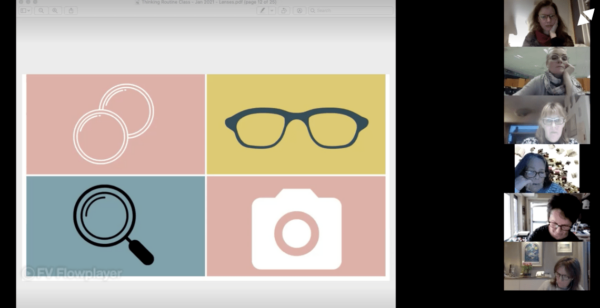 The Discussion
I selected 'Telecam Guys' by photographer Tracey Moffatt (1977) as the image to discuss using Lenses. We started by looking closely at the image and describing what we were seeing. After making lots of detailed observations, we moved on to choosing a lens.
I asked participants to think about how they see the world and reiterated that a lens is something that relates to any aspect of your identities or background. e.g. your gender, your age, the place you are from or live, your race, ethnicity, your role in your family and more. I shared the example that I might choose the lens of a museum educator – one of my occupations – or my lense as someone who likes to take photographs or to look at the image through the lens of my gender. 
Participants then shared the lens they had chosen in the chat – we had a variety of choices ranging from gender, occupation, role (mother, friend), nationality, and more. They were then given time to look at the artwork again but this time through their own unique lens and to write down some notes – it could be free-writing or just a few thoughts on paper. 
I then put the participants into breakout rooms to share their thoughts with a partner. They were advised to listen carefully to their partner's thoughts and ideas and to hold back on asking any questions at this point. 
When participants returned to the main session, I asked them to think about what their partner had just shared with them and brainstorm a list of questions to learn more about their partners perspective. I advised them to go for quantity over quality – just write them on the paper as you think of them without stopping to analyse and reformulate them. 
After 2 minutes of brainstorming, I asked participants to place a star next to the questions that they thought were the most interesting. Participants then returned to the same breakout rooms to ask their questions to their partners. 
When we returned to the main session for the second time, I invited participants to share their discussions and findings with the group as a whole. The discussions were rich and fascinating.
Finally we all took a moment or two to look again at the work and then reflect. I had already revealed the name of the artwork, but at this point I wanted to reveal a caption that is displayed with the artwork. 
It reads
'Later, her sister said, "the Telecam guys told me I was far more attractive and vivacious"
I then asked the participants for their reflections based on this new information. I asked them to share any new observations or questions they had following on from this. Our final discussion revolved around discussing how participants might use Lenses in their work. 
Takeaways
We spent some time discussing and exploring what lenses are and how we could best explain the concept to groups we work with – a participant suggested using glasses, a magnifying glass or even giving children the mask of a character with eye holes to help them to understand they are looking through a lens.

We spent quite a bit of time discussing the thinking routine at the end of the session and also in further sessions. Participants suggested different ways to use the 'lenses' part – 

perhaps participants could all be asked to look through one or two suggested lenses? 

Or choosing two lenses in opposition to each other & exchanging ideas – interesting for people to hear other people's perspectives.  

Or participants could first choose a lens and then be allocated another lens (one that's not so familiar to you). 

Participants could look through their own lens and then swap lenses

Narrow down to a selection of lenses that participants could choose from (in a themed programme with an outcome in mind)

Some participants then tried out the routine for themselves in a practice session and had further questions afterwards about how to set up this routine. They discussed whether they should be viewing through their own lens (one that belongs to them personally) or whether at the end, participants could explore other lenses too. Do you leave it wide open and let participants select their own lenses or do you let people choose their own lens and then go toward more imaginative lenses? 

We also discussed whether it is always easy to know what your lenses are. This routine would be helpful for people wanting to become more aware of their own bias and perspectives. Posing questions such as 'Which lenses do you think that you have when you are looking at this image?' 'What would change if you were looking at this image as someone else or through the lens of a man/child/mother etc?' Asking people to reflect on why they chose that particular lens and what other lenses they also considered might be interesting too. Also, looking through a different lens can help you to recognise what your own lenses actually are!

When a participant adopts a personal lens, they are exploring and becoming aware of their own biases in observing the visual world. This routine helps to open up that awareness.

When a participant adopts the lens of another's perspective, even an imagined one, they give themselves the opportunity to expand empathy.
Have you used Lenses thinking routine before? I'd love to hear how you used it and what your key takeaways were?
The Ultimate Thinking Routine List
I've been working on an ultimate list of ALL 90+ thinking routines as a handy instant reference guide for educators, guides and creatives working with Visible Thinking. Get inspired! If you'd like to receive a free copy, then click on the button here.