10 years ago, way back in 2011, I discovered the magic of Visible Thinking and starting developing Visible Thinking in the Museum – my method that uses thinking routines to help question formulation and structure, along with facilitation techniques, collaborative learning and museum education practices.
Visible Thinking in the Museum is an easy-to-follow method that allows educators like you to confidently design, lead and manage engaging inquiry-led sessions with art, objects and ideas for any audience. But how did it come about? And why should you use it? All will be revealed in this week's blog post – 10 years of Visible Thinking in the Museum!
How did Visible Thinking in the Museum start?
In 2011, I carried out research at the
Tropenmuseum
with teachers from international schools to find out what they wanted from museum visits. I conducted a series of focus groups and spoke to a lot ot teachers with the aim of designing a new educational programme for primary school students that:
✔️engaged students fully with objects in the museum⁠
✔️encouraged slow-looking and careful observation⁠
✔️fostered group discussion and collaborative learning⁠
✔️involved a teaching switch from 'sage-on-the-stage' to 'guide-on-the-side'⁠
In one of the focus groups, Melanie Smith, a teacher from the International School of Amsterdam, spoke about
Visible Thinking
and how she thought it could have wonderful possibilities within the museum environment (as it had already done within their classrooms). 
After that session I went away and read '
Cultivating a Culture of Thinking in Museums
' by Ron Ritchhart (a must-read for anyone starting out with VTM). 
From then on, I was hooked. The more I dug deeper into Visible Thinking, the more I could see all the wonderful possibilities for application with art, objects, themes and ideas. ⁠
This led me to create my first method using elements from Visible Thinking combined with museum education practices – it was called 'Stop! Look! Think.' and it was the pedagogical method for my first programme using thinking routines called '

Stories around the World
'.
Stop. Look. Think! and 'Stories Around the World'
'
Stories around the World
' explores the theme of stories and storytelling by looking at and connecting with a series of carefully chosen objects around the museum. In this programme for international primary schools, students look at the way objects can tell stories about people, ideas and the objects themselves. To mirror the innovative approaches in use in international schools, I felt it was important to create a new teaching method for the new programme.
I called this new approach Stop. Look. Think! It is composed of five principles that aim to encapsulate everything that 'Stories Around the World' represents. These include the slow, careful exploration of objects using open-ended questions, the development of key critical thinking skills (e.g. observation, reasoning) and the fostering of a community of learners who all feel happy, willing and able to contribute to the discussion taking place.
'Stories Around the World' was the first museum programme in the Netherlands to use Visible Thinking and specifically, thinking routines. Originally designed for the classroom, these flexible, easy to use, mini-strategies were adapted for use in the Tropenmuseum. They provided a structure for student-led discussions and encouraged the exploration of ideas. They also helped to spark curiosity and provoke debate about the Tropenmuseum's collection. The Stop. Look. Think! principles embraced a new way of thinking and learning in the Tropenmuseum.
After I left the Tropenmuseum, I decided to develop the ideas in the method further which eventually became the Visible Thinking in the Museum method.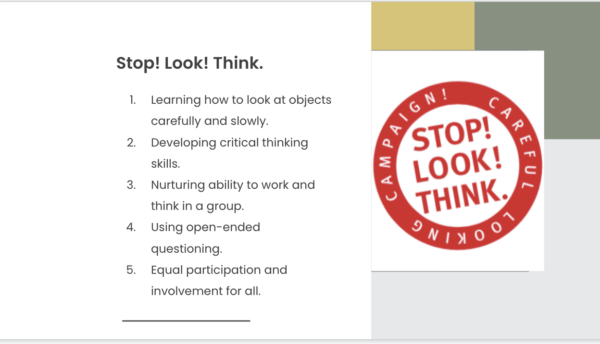 What is Visible Thinking in the Museum?
Four  elements have been key to the success of this approach and have evolved over the course of the past 10 years:
Documenting

the process.

Encouraging

collaborative learnin

g.
Visible Thinking in the Museum (VTM) focuses on developing thinking dispositions (i.e. not just the 'skill' itself but the inclination and ability to use it) that foster curiosity, creative and critical thinking. The method is a flexible structure personal and collective around which to explore museum and heritage collections and their stories.
Educators can use thinking routines as the structure to their inquiry-led discussions and to engage their audience with certain skills, such as careful observation, thoughtful interpretation and understanding different viewpoints. The museum teacher, guide or educator facilitates and guides this process combining elements of Visible Thinking with certain museum education practices.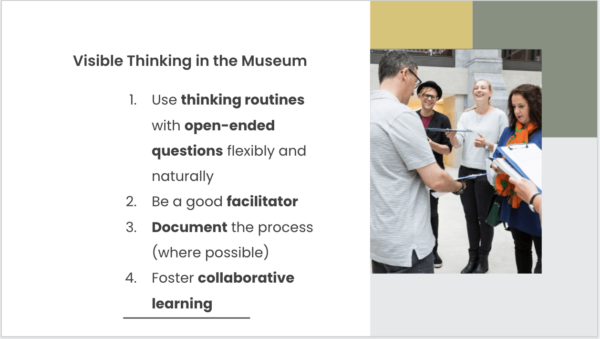 Why use the Visible Thinking in the Museum method?
Over the past 20 years, I've seen first-hand how many educators (museum & heritage educators and all kinds of guides) have struggled to meet the demands of leading inquiry-based, discussion-led, interactive programmes – some key struggles were:
There's no 'script' in my head to fall back on⁠

How do I know what questions to ask? How do I know what questions are 'good' questions?

Where will I share my knowledge? ⁠

What will happen if I hand over control⁠ to the participants

What if no-one says anything?⁠

What if someone asks a question I don't know the answer to?⁠

How do I structure a discussion-based programme? What if we go off-topic or off on tangents?
I wanted to simplify the process of leading engaging discussion-led programmes around art and objects. I wanted to develop a method that engaged both the educator (renamed as the facilitator) and the participants (aka the audience). I wanted to get rid of the confusion surrounding inquiry-led programmes and develop a flexible process that made sense to educators.
Visible Thinking in the Museum as a method uses thinking routines to help educators formulate 'better' questions and provide a flexible structure for the discussion. The method also teaches facilitation techniques and collaborative learning practices so that you know how to create an environment where participants feel happy to contribute and stay engaged throughout.
VTM is 'inquiry made simple'. It's an easy-to-follow process that allows you to confidently design, lead and manage engaging inquiry-led sessions with art and artefacts with any audience. It helps you to design and structure your programmes, facilitate and manage discussions and really engage any audience with the art, artefact or idea you're discussing. ⁠
⁠
It's a simple but transformative method and it will really change the way you work. ⁠
What the benefits of using the Visible Thinking in the Museum method?
STRUCTURE

: Thinking routines provide a loose, flexible structure around which to base the discussion of an artwork or object. This flexible structure organises thoughts and serves as the backbone for the discussion

and helps educators (and visitors) to know what to expect next. It helps the discussion become a rounded whole rather than a loose muddle of open-ended questions.

The key point is that any strategy should be memorable enough for you to easily recall where you are in the discussion.

IMPROVE QUESTIONING SKILLS

: The questions of the routine are carefully worded to allow for multiple interpretations and to open up discussions. The wording of the questions in the routines also helps  educators format their own open-ended questions.

ADDING CONTEXTUAL INFORMATION WHERE NECESSARY

: Factual or supplemental information can be added as and when required. Thinking routines allow information to be offered to the group in small amounts and at appropriate times, rather than as a lecture by the guide.

FLEXIBLE

: Thinking routines can also be adapted or modified to suit the needs of the group or educators can even create their own routines based on the

Visible Thinking

ones. Thinking routines can be combined – e.g. Looking Ten Times Two (observation) + Step Inside (perspective-taking). A selection of

different

thinking routines can be used throughout a programme to target different areas of thinking and keep the programme lively.

MEMORABLE

: Thinking routines are intended for repeated use, which enables both the facilitator AND participants to remember them and use them independently in no time at all

VARIETY OF CONTEXTS

: The diversity and flexibility of Visible Thinking Routines makes them ideal for exploring ideas, sparking curiosity and provoking debates in a huge variety of contexts and environments – e.g. over the past 10 years I've worked with individuals and teams in all types of museums (art, history, ethnographic, science, etc), historic houses, nature and conversation, dance and opera and so on. I've taught them the VTM method so that they can lead engaging discussions about their own specific collections and environments with their own unique audiences. 
Visible Thinking in the Museum Online
You can learn how to use VTM with one of my online training courses. Individuals and teams can also sign up for my flagship 8 module online course 'Visible Thinking in the Museum Online (VTMO)'. This course is taught 3 times a year in the Visible Thinking Membership (next intake: 1 February 2021) and offers a combination of self-directed study (ie study at a time and place that suits you) and live classes (essential for accountability and inspiration from others).
By becoming part of the VT Membership and completing this course, you will learn how to:
– Give your discussions a flexible structure and substance using thinking routines.
– Best engage your group by employing facilitation skills, good questioning skills and the techniques of collaborative learning
– Handle information strategically and productively
– Use 22+ thinking routines for group, individual and personal use
I've led hundreds of in-person trainings in the Visible Thinking in the Museum method over the past 10 years. BUT I think that 'Visible Thinking in the Museum Online (VTMO)' is the best Visible Thinking course I've ever designed.
And this is why: Everything that you will learn can be applied to the in-person museum, heritage or classroom experience, just as it can be applied to the online learning environment.
But also, I teach three times the content on the online course compared to the in-person course.
We learn 22+ thinking routines together over the course of 8 modules.
We have time to devote to subjects that I can only touch upon in a one day in-person training.
And we have time for practise and coaching every week – not just for one hour at the end of a one-day training.
It is the most comprehensive course out there teaching you to lead engaging discussions about art and ideas.
THE TM WEEKLY
Every Friday I send out a weekly newsletter full of inspiration and ideas. Each week I share one thing to watch, one to read and one to listen to every week and all my news too. It's more than a newsletter – it's a carefully-curated dose of inspiration for the curious. Sign up below!