I was recently lucky to have the opportunity to join the special edition two-day 'Visible Thinking in the Museum' training led by Claire Bown of Thinking Museum with co-host Gundy van Dijk in the Mauritshuis.
Having worked in audience participation for a number of UK museums over the years, the practice of facilitating and encouraging interactive and creative engagement with collections was not new to me, but the particular approach of Visible Thinking was. Visible Thinking is a research-based approach to teaching and learning developed within schools by Project Zero in the early 2000s, which Claire Bown has adapted and applied to museums. Visible Thinking in the museum environment focuses on developing thinking dispositions within visitors that encourage curiosity, creative and critical thinking and structure personal and collective exploration of collections and their stories.
Over the two days of training, the Mauritshuis provided the backdrop and hosted 25 participants from the Netherlands, France and the UK. Delegates were largely practitioners working within museum learning and engagement teams and responsible for designing or facilitating guided tours or experiences for visitors.
Day one began with an introduction to Visible Thinking, its core goals and principles and how it can be applied within museums to facilitate meaningful experiences. Visible Thinking offers a number of thinking routines which can be used to stimulate, guide, and develop a culture of thinking when combined with museum education practices. For example, one of the more popular routines 'See, Think, Wonder' encourages individuals to practice slow-looking and observe, before processing and analysing and then questioning. Breaking down thinking into simple and engaging steps can build confidence as well as skills in making sense of collections. Thinking routines allow people to contribute and participate in different ways and are flexible and adaptable, making them effective with a variety of audiences within museums.
Over the two days of training, delegates had the opportunity to try out a number of the different thinking routines within the training room and out in the gallery, with paintings, a print, photography and objects. Routines range from more observation-based routines such as 'See, Think, Wonder', '5×2' and 'Colour, Shape, Line' which encourage people to look first, to more narrative-focused and creative ones such as 'Beginning, Middle, End' and 'Step Inside'. While participating in and practising the routines, it became apparent how useful and usable they really are.
Facilitating Visible Thinking is a skill. It can be tricky to take people on a journey of thinking, particularly if they expect and are accustomed to more traditional didactic learning experiences. Using open questions and conditional language (e.g. 'would' and 'could') helps. Asking 'What could be happening here?' rather than 'What is happening here?' suggests there isn't one right answer and makes space for different ideas and multiple interpretations. Facilitating should involve more listening than talking and Claire and Gundy emphasised the importance too of embracing silence and giving people time to look and think.
An idea that we kept returning to through the training was that of information. How much information should you provide and when is the right time to share it? Visible Thinking places emphasis on exploration and discovery, where ideas come from the learners. Unlike other forms of inquiry-based approaches to facilitated museum discussions that prefer not to transmit any external information to viewers (such as Visual Thinking Strategies or VTS), Visible Thinking offers ample opportunity to add contextual information as and when required. However, knowing when or how to blend information into the discussion in ways that do not detract from the experience is an art in itself and, as Claire pointed out, takes time to practise and master.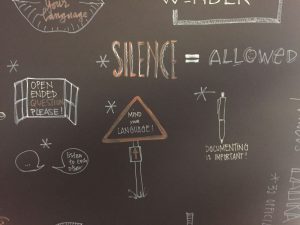 A key feature of facilitating Visible Thinking discussions is documenting thinking. While practitioners may often find themselves scribbling away on a whiteboard or flip chart, it's perhaps easy to forget the effects effective documentation can have. Claire and Gundy showed us how recording everyone's contributions, clarifying, re-phrasing or paraphrasing places value on each person's thoughts, organises and synthesises ideas and shows the collective development of thinking. Documentation does not always have to be writing, but can be more visually creative too. During the training, the thinking and discussions going on were also documented by Mariette Ciggaar, a visual artist who joined the two days to listen and draw in real time and to record key conversations and questions.
One of the things I found particularly interesting about Visible Thinking is the idea of creating a community of learning and a shared culture of thinking. This resonated with my experiences of facilitating and is something I have been thinking about recently in relation to intergenerational learning and collaborative working and is a subject I came away wanting to explore more.
The two-day training allowed me to reflect on my practice whilst offering flexible, easy to remember and effective thinking routines to put to use. Having recently moved to the Netherlands from the UK, it was a great opportunity to learn more about some great work happening here and meet a range of colleagues each aspiring to make collections more accessible, engaging and relevant to audiences.
For more information about 'Visible Thinking in the Museum' trainings, please see here or contact us.